Buying New Construction? Earn up to $10,000 with our Cash Back Program.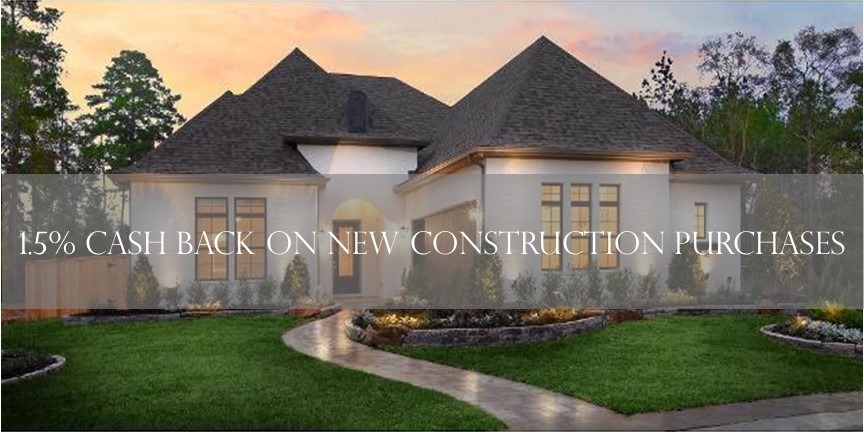 Imagine having an extra $5,000, $7,000, or even $10,000 when you close?
Now stop imagining and call Jennie!
With Jennie Payne's Cash Back Program, you will receive 1.5% of the cost of your new home.*
For example, If you new home purchase is $500,000, you'll receive $7,500 cash back!
Not only will you be represented by the best, you'll have extra cash to use towards upgrades, furnishings, or whatever you desire.
Why do I need a Realtor when buying New Construction?
A Realtor's job is to ensure that you get the most value with the least amount stress and hassle. It is always a good idea to have adequate representation from a licensed Realtor on any home purchase, and new construction is certainly no exception...
While builder's sales representatives can be very helpful, they have the builder's interest in mind - it's their job. Therefore, they are likely to try to get the most money for the house that they are selling as possible.
A Realtor can negotiate upgrades and extras for you. Everything from upgrade countertops, front doors, garage door styles, and window treatments can all be negotiated into the deal. An experienced Realtor like Jennie Payne can make sure you are getting the best bang for your buck.
A Realtor can help oversee an inspection. Many people forgo an inspection in a new home, but the incidence and severity of defects in new construction can often rival that of pre-owned homes; and a builder's rep is most likely not going to push for you to get an inspection. It will be up to you and your Realtor to make it happen. This is just another step in the buying process in which a Realtor can be especially helpful.
Call Jennie Payne and be represented by the best - Just like James in Coppell was...
"I had no idea that I needed a Realtor when buying a new construction home, but after someone recommended using Jennie, I'm so glad I did. She walked me through the process with meticulous attention to detail and negotiated a better deal than I ever thought I could get. Plus she asked for blinds to be thrown in at no cost. I would've never thought of that. In all, I probably saved about $30,000 on my new home because I was represented by Jennie. I can't imagine buying a house without her help in the future!"
Call today for more details - 214-215-5645
*offer applies to purchase of new construction homes only; 1.5% of new home purchase price will be paid directly to buyer by Jennie Payne upon closing; $10,000 maximum payout
Some restrictions do apply, please call for complete details.